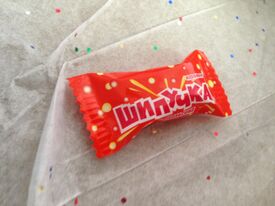 Ukraine
Roshen
Description
Edit
This is a special kind of candy that comes in a variety of different flavours. Each is coloured differently and shaped like a small football. While initially thinking that it is a simple hard candy, the consumer quickly finds out that it is much much more. When the delicious hard candy is dissolved enough, a fizzy powder slips out and sparks the tastebuds with a tangy taste. The flavour is unfortunately difficult to describe!
Advertisement
Edit
"I was not able to find a commercial with the resources that I have. I'm afraid that this candy is too foreign! Instead, let me tell you a story about a polite Ukranian man who wanders around the city in which I live. He brings different flavours of this candy around with him and drops them into the palms of the cashiers that he visits. He's always so kind, sporting a bright smile and a few kind words for the employees. I have fond memories of these candies, and I assume he does as well." - Wiki Admin, Mary Metzger
Ingredients
Edit
Glucose syrup, acidity regulators: citric acid, mixed lactic acid and citric acid, sodium bicarbonate; glucose, flavourings: tutti-frutti, lemonade/tutti-frutti, orange, lemon; natural food colourings: carmine, curcumin, Paprika extract, B-carotene.
Nutritional Information
Edit
Where to Buy
Edit
An American variation of this candy, called Mr. Fizzy, can be purchased from Amazon.com. You can get many Roshen candies, including this one, from international grocery stores, such as the Buford Hwy. Farmer's Market in Atlanta. Most large cities have several such markets.
Community content is available under
CC-BY-SA
unless otherwise noted.