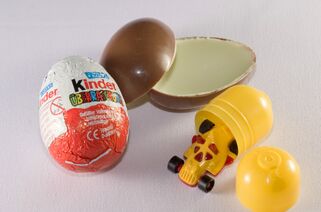 Belgium
FERRERO
Description
Edit
Possibly the most delicious chocolate in existence, Kinder surprise eggs are composed of two layers of chocolate. The outside is a creamy blend of milk chocolate and the inside a deliciously satisfying white-ish chocolate. The fun doesn't stop there, though, for inside every egg is a capsule that contains a toy! Truly a delight to experience.
Advertisement
Edit
A charming, though old, Kinder commercial made even more delightful by the Australian accents. It embodies everything to love about Kinder Surprise Eggs!
Ingredients
Edit
Milk chocolate (sugar, milk powder, cocoa butter, cocoa mass, lecithin, vanillin), milk powder, sugar, modified (vegetable, palm) oils, lecithin, vanillin. 32% milk ingredients. Contains: milk, soy.
Nutritional Ingredients
Edit
Where to Buy
Edit
As Kinder Surprise Eggs are banned in America for being a choking hazard, they are a bit difficult to find. They can be purchased in Canada, or in large quantities on Amazon.
Community content is available under
CC-BY-SA
unless otherwise noted.